EARTH FROM THE AIR is a spectacular presentation of large-scale photographs of astonishing natural landscapes. Created by world-famous photographer Yann Arthus-Bertrand, every stunning aerial photograph tells a story about our changing planet. Seen together, they are an outstanding visual testimony to the world we live in today. A world with a growing population, shrinking biodiversity, polluted lands and oceans, a changing climate and a shortage of drinking water. A world, nevertheless, of beauty and of wonder.
A DIARY FOR CHANGE! A PRESENT THAT MAKES 2007 A GREENER YEAR
It is a diary with a difference that can make a difference. The 2007 EARTH FROM THE AIR diaries are packed with amazing pictures of the earth today by celebrated photographer Yann Arthus-Bertrand. Alongside the stunning photos are loads of simple tips, environmental facts and useful information. It makes an ideal present for anyone who has even a passing concern for the state of the world we live in ˆ its beauty and its fragile state.
Now available in two different 2007 diary formats see our webshop.
HAPPY NEW YEAR GO M.A.D. - MAKE A DIFFERENCE IN 2007

We are looking for sponsors. If you are interested, please email us at enquiries@earthfromtheair.com

You can also support our FREE exhibition by buying prints and books from our webshop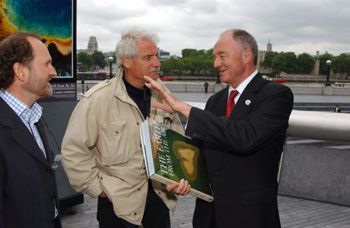 Mayor of London, Ken Livingston, opens the Earth from the Air exhibition, talking with Photographer Yann Arthus-Bertrand and Exhibition Director Chris Bridge.