London (Closed)
MORE GOOD NEWS! Our London exhibition is extended until February 19th... And it could be longer until March... but we need sponsorship to extend it until end March 2006 and continue our tour. Can you help? Email us at enquiries@earthfromtheair.com

You can also support our FREE exhibition by buying prints and books from our new shop at the base of Tower Bridge - More London south side.


The Earth from the Air Free Open air exhibition and World map are still flood lit and open 24hrs....
Our London shop and information centre is open again. It has been relocated right next to Tower Bridge. You can also buy from our on line shop....see shop..
For information enquiries please call 01604 696903. Or email london@earthfromtheair.com.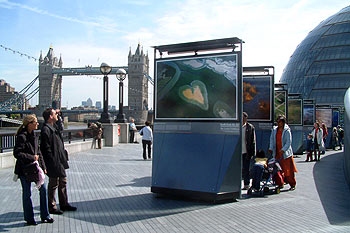 click here to view more images


More London: www.morelondon.co.uk

Travel
Nearest tube station - London Bridge or Tower Hill.

Contact us:
+44 (0) 1604 696 903
enquiries@earthfromtheair.com
THIS HALF TERM.
Don't miss this last chance for you, your family and friends to enjoy our beautiful world for free at Yann Arthus-Bertrand's world renowned exhibition. This free, open-air exhibition located at More London riverside between London Bridge and Tower Bridge is floodlit at night for spectacular effect offering visitors the perfect romantic location for a Valentines rendez-vous underneath the famous natural heart image!
Enjoy the images day or night and don't miss the giant walk on map of the world with environmental Agenda for Change, free short film and information centre on the south riverside walk at Tower Bridge, where you can find out loads more information about the project and other topical climate change and sustainable development issues. Go M.A.D! Come down to find out more and pledge to make small lifestyle changes that collectively really can make a difference.
Earth from the Air is a collection of large scale photographs of astonishing natural landscapes with fascinating texts, transforming the More London site by the Thames into a free outdoor gallery space. From Camels crossing the Sahara desert, the Twin Towers on New York's skyline, awe inspiring views of Mount Everest to recent images of the tragic Tsunami disaster, these are just some of the breathtaking sights that Arthus-Bertrand has captured. Every stunning photograph tells a story about our changing planet; seen together they are an outstanding visual testimony to the world we live in today. A world with growing population, shrinking biodiversity, polluted lands and waters , a changing climate and a shortage of drinking water. A world nethertheless of beauty and wonder. After a successful run at this landmark site where it has attracted thousands of visitors and received fantastic feedback, the exhibition is now ending due to building works. Part of the exhibition is being removed whilst most will remain until February 19th.
Mayor of London, Ken Livingston, opens the Earth from the Air exhibition, talking with Photographer Yann Arthus-Bertrand and Exhibition Director Chris Bridge.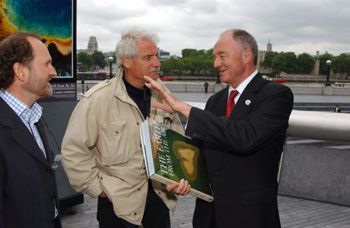 Opening ceremony for the walk on world map Yann with a local children on a school visit.